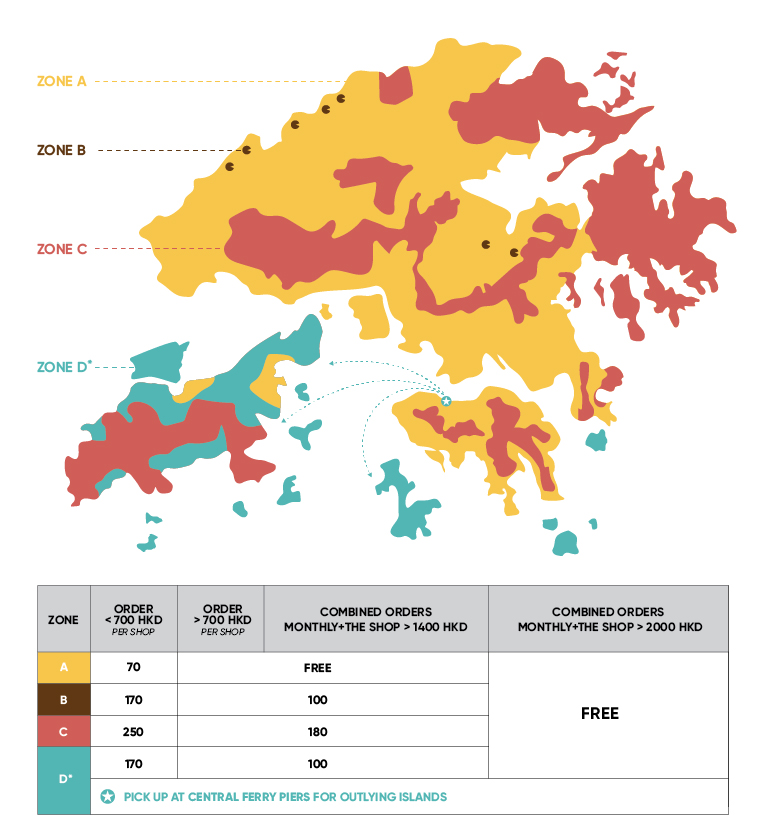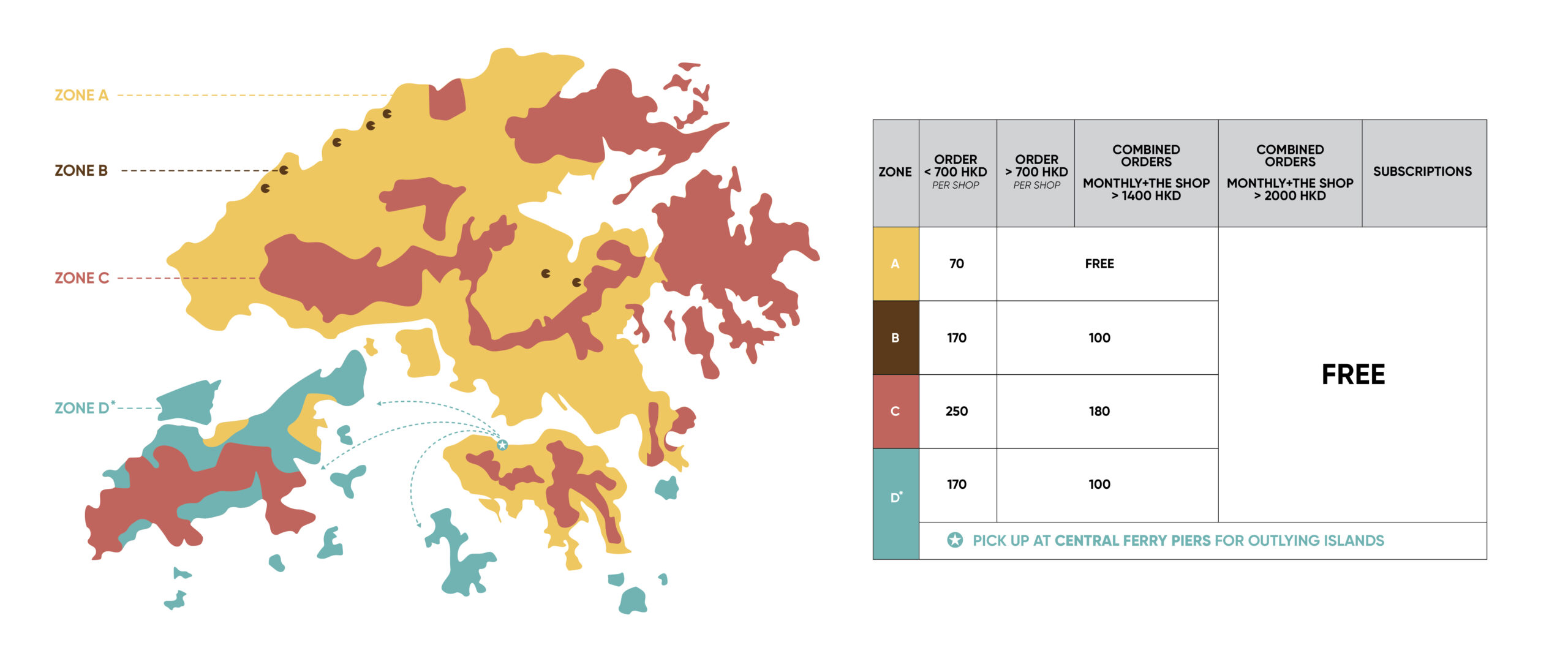 Hong Kong Island, Kowloon, New Territories (excluding Zone B, C, and D)
Special Yuen Long districts: Mai Po, Lok Ma Chau, Ma Tso Lung, Northwards to Kau Kee Store, Deep Bay Road, Lau Fau Shan Road;
Special Sha Tin districts: Upper/Lower Wo Che, Fa Sam Hang.
All Country Parks; Special Sai Kung districts: Pak Tam Chung, Hoi Ha Wan, Yung Shue O; Special Clear Water Bay village: Po Toi O; Lo Wu
Lantau Island (Mui Wo, Tai O, Pui O, South Lantau, Lower Cheung Sha, Upper Cheung Sha); Lamma Island; Cheung Chau Island; Peng Chau Island.
Orders on The Shop: Pick up at Central Ferry Pier at a specific time.
Orders on the Monthly Offer: Grouped delivery for inhabitants of the same district can be arranged to waive delivery fees.
Contact us at cs@cheeseclub.hk or by WhatsApp and telephone on +852 6576 4221 for more details.
CAN I SPECIFY A DELIVERY DATE AND TIME ?
When ordering during our Monthly Offer, you will have the choice between 4 to 5 delivery days, available on a "first come, first served" basis. 
The Shop allows you to choose your preferred delivery date.
For a next day delivery, place your order before 4pm!
For delivery on Sunday and Monday, place your order before 4pm on Friday.
If you request a specific delivery time, we will have to deliver by Gogovan or Lalamove and we will charge you the extra cost incurred (minus 70HKD if your order is above 700HKD).
To do so please contact us at cs@cheeseclub.hk or by WhatsApp and telephone on +852 6576 4221.
Once delivery is confirmed we will send you an invoice corresponding to the related delivery fee.
WHAT IF I'M ABSENT WHEN MY PARCEL IS DELIVERED ?
Your delivery will be left in your nominated safe place (e.g. in front of your door, with your concierge…) until you collect it. Each parcel is insulated and contains ice packs to maintain a chilled temperature for a few hours. It is normal that ice packs melt over time as the parcel are kept overnight in chilled temperature. It is the responsibility of the client to promptly collect the parcel in case of absence and once the parcel is delivered as instructed. Cheese Club will not hold any responsibility after a parcel is effectively delivered by our logistic partners as instructed.
In case of absence and without specific instruction, our logistic partner will contact you and intent a second delivery the following working day.
In case of 2 absences, your parcel will be returned to our warehouse and we will charge you extra-fee for a new delivery.   
All boxes are kept in a cold room and transported in a chilled truck during that time, however Cheese Club will not hold responsibility over the parcel if it was not successfully delivered the first time.
WILL MY CHEESE STAY FRESH DURING DELIVERY ?
We insulate our boxes and use chilling packs to keep your order (fresh and in perfect condition until your order is delivered to you. The cold chain is respected all along the way. Chilled truck from producer to airport, chilled container in the plane, chilled truck from airport to our cold-rooms and then chilled truck again to deliver to your home. Please contact us at cs@cheeseclub.hk or by WhatsApp and telephone on +852 6576 4221 know if you have any further questions.
BANK HOLIDAYS OR SEVERE WEATHER CONDITIONS
We may not deliver during bank holidays (please check the calendar entries in your cart). When extraordinary events occur, such as natural disasters, we cannot ensure deliveries. When T8 signal is reached for instance, we do not deliver.
Lastly, due to the impact of Covid-19 on air traffic, we may need to adjust our local delivery schedule based on logistic constraints.
We do not recommend changing the delivery date of your order to avoid further delay. If it is necessary for you to change your delivery date, you must make the change at least 3 days before the delivery. If you wish to proceed with the changes, please be noted that there will be 1-2 days possible delay on your shipment. To make this change please go to your profile and click orders. Once there you can change the delivery date. In case of last-minute change, please contact us directly or by WhatsApp and telephone on +852 6576 4221 and we will do our best to schedule a new delivery date.
IMPORTANT NOTICE - WALK-UP BUILDINGS
Kindly notice that if you are living in a walk-up building, you must pick-up your parcel downstairs.